Get articles on writing, freelance job listings
and markets for writers every Wednesday by email!
Follow Angela Hoy on Facebook and Twitter
November 19, 2014
In This Issue
11/19/2014

POD PRICE COMPARISON
SELF-PUBLISHING SECRETS REVEALED - How Many Book Sales Needed to Recoup Your Investment?

HINT:
BookLocker - 121 COPIES (setup fees: $675)
CreateSpace - 289 COPIES (setup fees: $1,486)
Lulu - 367 COPIES (setup fees: 1,536)
AuthorHouse - 424 COPIES (setup fees: $1,993)
Trafford - 428 COPIES (setup fees: $1,424)
iUniverse - 401-472 COPIES (setup fees: $1,599)
Xlibris - 477 COPIES (setup fees: $2,621)
Fees are based on the least expensive package offered by each publisher on similar packages targeting U.S. authors. Fees include print publication within 6 weeks (interior setup, original cover design, up to 25 interior photos/graphics, an ISBN, barcode, print proof, a listing on the publisher's website, fulfillment, distribution by Ingram, the world's largest book distributor (which includes a listing on Amazon.com, BarnesandNoble.com, etc.) and basic ebook formatting, conversion, and fulfillment/distribution. We are including ebook services because most firms now include these in their print packages.
More info:
http://j.mp/1lOBO0t
Publisher's Desk
Publisher's Desk For November 19th

AUTHORS, DON'T GET RIPPED OFF!
There is NO NEED WHATSOEVER to spend thousands publishing your book!
BookLocker is FAST, Affordable, and Friendly.
http://publishing.booklocker.com/packages.php
HOW MUCH SHOULD YOU PAY FOR PROFESSIONAL BOOK COVER DESIGN?
THIS WEEK'S WRITERSWEEKLY TRIVIA CONTEST!
You must be a WritersWeekly.com subscriber to participate in the weekly contests. Subscribe (it's free!) here:
http://writersweekly.com/subscribe.php
Once you have subscribed, answer the question at the link below.
NOTE: ONLY ONE WINNER PER HOUSEHOLD PER CALENDAR QUARTER, PLEASE.
THIS WEEK'S PRIZE:
A free book of your choice from BookLocker.com!
HOW TO ENTER:
Answer the question at THIS LINK
ABUZZ PRESS IS SEEKING MANUSCRIPTS - Non-fiction, how-to, new-age, textbooks, er*tic romance and other fiction. See guidelines at:
NO SETUP FEES. (Yes, really!)
RATED OUTSTANDING!
BookLocker.com is "AS CLOSE TO PERFECTION AS YOU'RE GOING TO FIND IN THE WORLD OF EBOOK AND POD PUBLISHING." - Attorney Mark Levine, author of The Fine Print of Self Publishing
http://publishing.booklocker.com/packages.php
THE WINTER, 2015 24-HOUR SHORT STORY CONTEST! RESERVE YOUR SPOT TODAY!
Each contest is limited to 500 participants and they usually fille up so don't delay if you want to participate!
1st Place: $300
2nd Place: $250
3rd Place: $200
+85 other prizes!
Entry fee is only $5. You can see the complete list of 85 prizes and sign up here.
READ PAST TOPICS HERE!
POD PRICE COMPARISON
BookLocker - 121 COPIES (setup fees: $675 - deduct $200 if submitting your own cover)
CreateSpace - 289 COPIES (setup fees: $1,486)
Lulu - 367 COPIES (setup fees: 1,536)
AuthorHouse - 424 COPIES (setup fees: $1,993)
Trafford - 428 COPIES (setup fees: $1,424)
iUniverse - 401-472 COPIES (setup fees: $1,599)
Xlibris - 477 COPIES (setup fees: $2,621)
Details here.
THE WRITE MARKETS REPORT - 12 issues for only $4.95!
http://writersweekly.com/books/677.html
USE MEMORY TRIGGERS TO WRITE YOUR MEMOIRS THIS YEAR!
http://writersweekly.com/books/4764.html
POD SECRETS REVEALED!
http://www.writersweekly.com/selfpub.php
PUBPREPPERS - WE PREP, YOU PUBLISH!
WRITERSWEEKLY.COM'S CURRENT BEST SELLERS
1. 24-HOUR SHORT STORY CONTEST ENTRY FEE - $5
Entry fee and contest guidelines ebook.
2. ONE-YEAR SUBSCRIPTION TO THE WRITE MARKETS REPORT
ONE YEAR (12 issues) of the newest paying markets for writers!
3. QUERY LETTERS THAT WORKED! Real Queries That Landed $2K+ Writing Assignments
In these pages, you'll find real query letters that landed real assignments for national magazines, websites, and corporations, including: Woman's Day - $2,800; Redbook - $3,500; Ladies Home Journal - $3,000; DiscoveryHealth.com - $2,000;
Lifetime Magazine - $3,000; Life Extension magazine - $6,480; SmartMoney - $5,000; Chemical Innovation - $2,200.
4. THE WELL-FED SELF-PUBLISHER BUNDLE
Buy BOTH The Well-Fed Self-Publisher + The Well-Fed SP Biz-in-a-Box ebooks for one low price.
5. QUIT YOUR JOB OR DIE
How to make self-employment work for you right now.
WANT TO SELL YOUR WRITING-RELATED BOOK ON WRITERSWEEKLY.COM?
Contact Angela directly at: angela@writersweekly.com
ANGELA ON FACEBOOK
https://www.facebook.com/angela.hoy.750
WRITERSWEEKLY ON FACEBOOK
https://www.facebook.com/writersweekly
ANGELA ON TWITTER
https://twitter.com/AngelaHoy
BOOKLOCKER ON FACEBOOK - Provides links to free excerpts!
http://www.facebook.com/booklockerbooks
News From the Home Office
Do You Think I'm...Obsessed???

While my bedroom closet may be in disarray (that's an understatement!), and the laundry may be backed up for three days, I am very organized with regards to business, paperwork/bills and...Christmas. Yes, really. It's a bit of an obsession for me...
The Latest From AngelaHoy.com
EMBARRASSING! When Friends and Family Lie About Buying Your Book By Angela Hoy - BookLocker.com, WritersWeekly.com, Abuzz Press and PubPreppers.com

Well, it happened again. An author accused us of not paying royalties on friends and family book sales...that never occurred. He was unable to provide copies of receipts from the loved ones he claimed had purchased his book. In addition, he refused to provide any information about the purchases, nor the buyers, nor the stores where the purchases had (not) occurred. Even though he had zero receipts, and even though he didn't forward any correspondence to me from those individuals, and even though he could not or would not give information about even one "missing" sale, he insisted I get the money...
Letters To The Editor
"I Have Had So Many Compliments On (my BookLocker.com book cover design)!!

Angela,
Thanks for putting Twenty-One Steps of Courage at the front of the cover design examples. I have had so many compliments on that cover, and always refer any authors who ask about it to you (and Todd). Because we used a real Soldier on the front, readers often think the story is non-fiction. I love that! Their remarks validate my choice to make sure the novel was as factual as possible.
Sarah Bates
http://www.sarahbatesauthor.com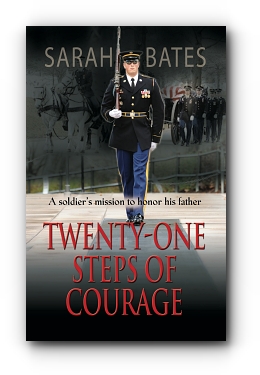 Twenty-One Steps of Courage
To have a son adopt his father's dream as his own is rare. But that is exactly what Rod Strong does when in 2006 he enlists in the Army to join The Old Guard. Serving as a Sentinel at the Tomb of the Unknown Soldier in Arlington Cemetery is all his father ever wants, until he dies in the Gulf War. Now Rod decides to honor his father by taking his place. He forges ahead, naively believing sheer will and hard work are all he needs...
This Week's Article
Spin Coverage Of One Event Into Numerous Articles! By Deborah Jeanne Sergeant

Is it worth the effort spending two hours covering an event, two hours on the road driving, and time to write the piece? Yes, if you can write more than one article from the experience. Most periodicals want something fresh, so if you take the same theme but approach it from a different angle, you're golden...
Ask The Expert
IS THIS MAGAZINE HOLDING MY ARTICLES HOSTAGE? Probably!

I submitted my articles to (a well-known magazine) and, after repeatedly requesting payment, this is what they said:
"I had a number of issues with your articles. They need a lot of editing and rewrites before they will be ready. And until I have time to do the editing work needed, I have to put a hold on these articles.
I'm writing six articles at any given time for several magazines who are happy to pay me at 40 to 70 cents per word so I'm guessing this is just a sleaze move to not pay.
What do you think?
Success Stories
Get Out Of The Trenches, And Get Your Name Out There! By Susan Sundwall

I write comic cozy mysteries. I am not famous. I'm down in the trenches, trying to get my name and titles out there. My publisher is small and my marketing budget is, too. Can you relate? On more than one occasion I've wondered if I should simply get a job at the bank, and forget this whole writing dealy-bob. It's a tough slog. But, take it from me, good things can happen if you hang in there...
Whispers And Warnings
Whispers And Warnings For November 19th

OUCH! BUT NOT AT ALL SURPRISING TO ME.
Amazon Advertising Executive Fired for Refusing To Lie
"A former advertising executive for Kindle is suing Amazon for wrongful dismissal. The saga begins in 2012 with the launch of the Amazon Kindle Fire Tablet. Amazon was seeking launch partners in order to build traction with their Special Offers edition. Credit card company Discover signed on, as they normally participated with pilot projects at Amazon. Then things got interesting..."
ALWAYS BE CAREFUL WHAT YOU SAY AT PARTIES! PEOPLE JUST MIGHT BELIEVE YOU!
Uber Responds to BuzzFeed Report on Journalism Smear Campaign
"A senior Uber executive, during a private dinner gathering, reportedly raised the idea of hiring opposition researchers to dig up dirt on journalists who have been critical of Uber, according to BuzzFeed News."
AN EXAMPLE OF HOW LAWS IN DIFFERENT COUNTRIES CAN HAVE A VARIETY OF EFFECTS ON LARGE INTERNET COMPANIES
Another Court Affirms Google's First Amendment Control Of Search Results
"Free speech law a powerful weapon on Google's side in US."
YEA, INTERNS!!!!! :)
Conde Nast Settles Intern Lawsuit for $5.8M
"Conde Nast, the publisher of magazines such as Vogue, Wired, and The New Yorker, has agreed to a $5.8 million settlement of a class-action lawsuit filed by former interns."
WOUNDING SOMEONE'S PRIDE ISN'T ILLEGAL
Author Michael Lewis prevails in 'Big Short' libel appeal
"The author Michael Lewis did not libel a money manager in his 2010 best-seller 'The Big Short,' a divided federal appeals court ruled on Friday."
IN MY OPINION, HACHETTE WON!
In Amazon/Hachette deal, ebook agency pricing is a winner
"In the deal that Amazon and Hachette Book Group finally reached Thursday after months of bitter negotiations, we don't really know which side 'won,' if one side did. But one survivor ó perhaps surprisingly ó was agency pricing for ebooks, the practice through which the publisher sets an ebook's price and the retailer takes a commission."
RELATED:
Archived Whispers and Warnings are HERE.
Markets And Jobs
Paying Markets And Jobs For November 19th

These are NOT recycled guidelines. WritersWeekly.com only features original market listings, received from and approved by the editors at each publication.
American Indian Art Magazine
CURRENT NEEDS: Queries. Pays $400 for 6000-7000 words.
Channel Partners
CURRENT NEEDS: "Articles by authors with domain expertise in IT, telecom channels, both technical and sales." Payment varies.
The Chronicle of Higher Education
CURRENT NEEDS: "We run timely op-eds at around 1,000 words, book reviews at 1,100 words, and longer articles, reviews, and essays at up to 5,000 words, depending on the piece." Payment varies.
The Cincinnati Review
CURRENT NEEDS: "We're always on the lookout for exciting new pieces of fiction, poetry, and nonfiction. We also publish reviews of new books of poetry." Pays $30/page for poetry, $25/page for prose.
FREELANCE JOBS
DO YOU PAY WRITERS? We'll post your ad for free (provided you pay respectable wages).
Send your ad to Angela here: http://www.writersweekly.com/contact.php
Freelance Managing Editor - for wedding/bridal magazine
What's Up? Weddings magazine
Freelance Asian Financial Journalist - English Writer
Investing.com
Freelance Blogger
digital media startup
Freelance "FEmail Fashion Finder Writer"
Daily Mail Online
Freelance Technical Writer
SR Education Group
Freelance Weekend Copyeditor
blind ad
Freelance Associate Technical Content Editor - Pays salary + benefits.
Pantheon
Freelance Writer - Pays $45/hour
creative agency
Freelance Teen Pop News Writers
blind ad
Freelance Writers
The Babe Report
Freelance Copywriter - "Web site design helpful too."
wellness/health business
Freelance High-End Lifestyle/Fashion Blog Content Editor - Pays $1,000+/month
"Sophisticated and Stylish Aspirational Women's Fashion & Lifestyle digital destination"
Freelance Copy Editor / Assistant Editor - Pays monthly retainer
"Start-up, nationally distributed print magazine "
Freelance Writers
parenting website
Freelance
Freelance Political Writers
Libertarian Leanings
Freelance Audio Translator
Verbal Ink
Freelance Social Media Writer - Culinary & Hospitality
Ulrich Maharry
Freelance Writer, Blogger and Social Media Specialist - paid internship
Changethemachine.com
Freelance Copy Editor - QA / Proofing. Pays $25-$30/hour.
blind ad
Freelance Ghostwriter - expert on corporate branding. Pays $90.
blind ad
Freelance Writers
"a digital-first entertainment and content hub"
Freelance Writer - for marketing materials
natural health manufacturer
Freelance Writer / Editor - Pays $80-$110
technology company
Freelance Proofreader - medical/legal. Pays $10/hour.
Woodlake Medical Management
Freelance Writers - for test preparation content. Pays $15/hour.
provider of online educational services
Young Freelance Writers (children) - Warning - only pays $1-$6 but they're specifically requesting articles from children.
For All the Animals, LLC / foralltheanimals.com
Freelance Copywriter
blind ad
Freelancers - to evaluate Internet ads. Pays $15/hour.
blind ad
Freelance Technical/Legal Writer/Editor/Proofreader - to research legal content, write workbooks, and edit materials
blind ad
BOOKLOCKER
Holiday-Themed Books

Holiday-themed books at BookLocker.com! Catch the spirit of the season!

AUNT SUZIE RAISES A TURKEY
Auntie Suzie and her daddy bring the little baby turkey home after purchasing him for only one dollar from the local feed store. She raises the little bird (Tom Turkey) in a box in her bedroom...
A HEROES' KEEPSAKE: Memoirs of Christmas at War
Stories of Christmas at war by American Heroes' throughout history.
NICHOLAS: The Fantastic Origin of Santa Claus
The action adventure origin of Santa Claus and Christmas traditions.
CELEBRATION: Stories of the Songs of Christmas
The history of the Christmas songs we sing!
CHRISTMAS IN DAIRYLAND
When LeAnn R. Ralph was growing up on a dairy farm in Wisconsin forty years ago, she didn't now she was making history...
THE CHRISTMAS WISH LIST
A Christmas miracle that transforms an entire community.
SANTA, CEO
Kicked from his global empire, Santa fights to return.
COWBOY CHRISTMAS TALES
A collection of short stories celebrating Christmas the Cowboy Way!
TO THE STABLE: Encounters on the Way to Bethlehem
Reflective portrayal of Gospel accounts of the birth of Christ.
ONCE UPON A CHRISTMAS
Spiritual and Heartwarming explanation of how Nicholas became Saint Nick.
THE MONEY TREE: A Christmas Miracle
Who says money doesn't grow on trees?
CHRISTMAS GUEST
Scott finds the meaning of home in this magical adventure.
NICK & SADIE
A Christmas fantasy of "what ifs."

THE TRUE CHRISTMAS STORY: And Why It Is Better For Your Family
What really happened at the birth of Jesus Christ.
THE CHRISTMAS TREE MURDER
High up on the eastern slope of New Mexico's Sandia Mountains, Maddy and Jane have everything prepared for a family Christmas gathering...
DIPLOMATIC IMPUNITY: A Viennese Christmas Mystery
Peggy Gilman investigates a shocking death in Vienna over Christmas.
STAR OF THE KING: The Christian's Guide to Learning the Identity of the Star of Bethlehem
Uncover the Bible's secret behind the Star of Bethlehem.
KNOCKING ON HEAVEN'S DOOR: A Simple Guide to Prayer
An indispensable guide detailing what prayer is, how it works and the magnificence of its different aspects.
AND MANY MORE! See BookLocker's bookstore here:
http://booklocker.com/
GET PUBLISHED BY BOOKLOCKER!
http://publishing.booklocker.com/packages.php