October 31, 2012
Paying Markets And Jobs For October 31st | printable version

PAYING MARKETS
These markets are NOT recycled guidelines. WritersWeekly.com only features original market listings, received from and approved by the editors at each publication.
Nevada Magazine, 401 N Carson St, Carson City, NV 89701. P(775)687-5416. Email: editor-at-nevadamagazine.com. Website: http://www.nevadamagazine.com. Matthew B. Brown, Editor. "Nevada's official tourism publication." 25% Freelance. Welcomes new writers. Circ. 20K. Bimonthly. Pays on publication. Publishes ms 3-6 months after acceptance. Buys first NA rights. Rarely accepts reprints. Responds 1-4 weeks. Sample copy available at http://issuu.com/nevadamagazine. Subscription $19.95, $29.95 foreign. Guidelines online here.
CURRENT NEEDS: "Exceptional travel stories that go beyond the journalism norm." Pays $250 flat rate, or $0.25-$0.35/word for 500-1500 words. Submit query by email.
PHOTOS/ART: "Submit low-res initially via email to tony-at-nevadamagazine.com." Pays $250/cover, $250/full spread, $175/full page.
HINTS: "Nevada topics only, and please be familiar with the publication before making your pitch."
OATMEAL STUDIOS GREETING CARD CO., P.O. BOX 917 - Dept. J, North Adams, MA 01247. Email: dawn-at-oatmealstudios.com. Website: http://www.oatmealstudios.com. Dawn Abraham, Editor. "We sell cutting edge, humorous greeting cards in many styles: humorous photo ideas, many cartoon styles, and more traditional word-play styles of humor. See our website." 100% freelance. Welcomes new writers. Pays on acceptance. Publishes card 6 mo. to 2 years after acceptance. "We request exclusive purchase and use of any idea we buy. We respond within a few days to e-mails and we hold copy for between 3-10 weeks for review (depending on when it comes during our current review cycle). We tell writers what dates they can plan on final decisions." Samples available at the website. Guidelines by email to dawn-at-oatmealstudios.com.
CURRENT NEEDS: "We are currently looking for birthday ideas. We pay $75.00 if we decide to buy an idea. Word count of an average greeting card length. Submit by e-mail to dawn-at-oatmealstudios.com or by snail mail with a self-addressed stamped envelope that covers return postage."
PHOTOS/ART: "If you have illustrations or photos with your ideas send a query first with a description and we will tell you how to best submit. See our website for more info. about art requirements. Pay is negotiable.
HINTS: "Read cards on the racks in stores and try to write something you would buy (and maybe all your friends would buy, too)."
Pediatrics for Parents, P.O. Box 219, Gloucester, MA 01931. ((215)253-4543. F(973)302-8187. Email: richsagall-at-pedsforparents.com. Website:
http://www.pedsforparents.com. Richard J. Sagall, MD, Editor/Publisher. "Pediatrics for Parents is the pediatrics journal for parents. Our articles are written by healthcare professionals and writers well versed in the topic they are write on. We Ždemedicalize' topics without talking down to parents. Our articles contain solid scientific data with useful information for parents. We avoid first-person stories, and articles on supplements, complimentary and alternative medical treatments." 50% freelance. Welcomes new writers. Circ. 250K. Bimonthly. Pays on publication. Publishes ms 2-4 months after acceptance. Buys first NA rights. Accepts reprints. Responds 1-2 weeks. Sample PDF copy available by email. Subscription $25, $40 foreign.
CURRENT NEEDS: "Will consider any interesting topic." Pays $25 for 600-1500 words. Submit query as word document by email.
HINTS: "Many first time authors write about their family experience and don't include significant scientifically-substantiated information. If the author is not an expert in the topic, then experts should be referenced. We are not planning new sections, but will consider regular submissions (and a column) from healthcare professionals."
Podiatry Management, P.O. Box 750129, Forest Hills, NY 11375. P(718)897-9700. Email: bblock-at-podiatrym.com. Website: http://www.podiatrym.com. Barry Block, Editor. 10-20% freelance. "We are the business and practice management magazine to the podiatric profession." Welcomes new writers. Circ. 16K. Publishes 9 issues/year. Pays on publication. Publishes ms 2-4 months after acceptance. Buys first NA serial rights. Accepts reprints. Responds within 72 hours. Sample available for $5 via mail to Podiatry Management, 10 East Athens Ave, Ardmore, PA 19003. Subscription $30. Guidelines available by email.
CURRENT NEEDS: "Stories tailored to the podiatric profession." Pays $350-$450 for 1,500-2,500 words. Submit query by email.
PHOTOS/ART: "Photos of subjects must be hi-res"
HINTS: "Please do not send a generic article. Do your research and include specific information about podiatrists, including quotes from podiatrists."
FREELANCE JOBS
DO YOU PAY WRITERS?
Post your ad here for free:
http://forums.writersweekly.com/viewforum.php?f=4
Freelance Marketing Communication Specialist
IGC
Freelance Writer/Internet Marketing Assistant
marketing company
Freelance Proofreader/Final Reader
Cognella, Inc.
Freelance Graphic Artist/ Copy Writer
blind ad
Freelance Market Research Analyst
BCC Research / BCCResearch.com
Freelance Transcriptionist - psychiatric/legal reports
blind ad
Freelance Luxury Magazine Editor
Luxury Lifestyle & Fashion Magazine
Freelance Alzheimers Blogger - Pays $150/week
online publisher
Freelance Translator - who can translate short advertisements into Spanish and Portuguese
blind ad
Freelance Medical/Healthcare/Wellness Writer
wellness enterprise
Freelance Social Media Liaison and Blogger
technology company
Freelance Writer and Virtual Assistant
niche search marketing agency
Freelance German Music Experts
blind ad
Freelance Content Screeners - Pays $10/hour.
Legacy.com
Freelance Business Profile Writers
blind ad
Freelance Product Review Writer - with power tool knowledge
e-commerce company with over 40 online stores in the power tool industry
Freelance Economic / Political Journalist - with experience in international affairs
small consulting business
Freelance Financial Planning Content Writer - Pays $0.025-$0.045/word
college financial planning blog
Freelance Translators / Journalists - fluent in French and English.
MidnightTrader, Inc.

ADVERTISEMENT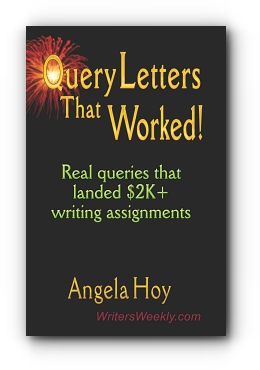 QUERY LETTERS THAT WORKED! Real Queries That Landed $2K+ Writing Assignments
Copies of real query letters that resulted in writing assignments worth $2K and much more!