August 22, 2012
Isaac Is NOT Welcome Here! | printable version

We're watching the forecast with a great deal of caution and a bit of worry. We already had Tropical Storm Debby so we think it's somebody else's turn to get a boatload of rain. ;)
Caleb has been spoiling us with gourmet meals since he arrived last week and I'm thinking a diet may be on the menu for when he leaves.
Have to cut it short today. Richard had to take a quick trip and we have to leave early to pick him up in Tampa because there's bad weather north of here.
This week's Masonism:
"Oh, Mom, I forgot to tell you. I need to learn how to drive the truck."
Big hugs to all,
Angela
P.S. I want to "follow" you!
ANGELA ON TWITTER
@AngelaHoy

ADVERTISEMENT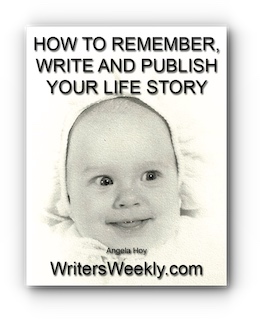 HOW TO REMEMBER, WRITE AND PUBLISH YOUR LIFE STORY! by Angela Hoy
Using Angela's MEMORY TRIGGERS, recall memories that have been dormant for years, and record those memories in chronological order in your memory notebook. Using the memory notebook as your outline, write your autobiography! **Also works for biographies and memoirs.**