September 05, 2012
School Days! | printable version

Max and Mason, who are homeschooled, started "school" this week. They were pretty happy when, on the first day, I let them do arts and crafts first. I gave them a box full of craft supplies, and said, "You have 30 minutes to make whatever you want." Holy cow, you'd think they'd both just won the lottery! They were so excited!!
Max cut out pieces of festive holiday card stock and made a spooky scene while Mason dug into the Sculpey Clay and made Luigi (Mario's partner). Then, we dove into language arts and social studies. After lunch, they did math and science with Daddy.
On Monday afternoon, we told them we were taking them to the bookstore so they could pick out their first chapter books of the year. Max's eyes lit up and he said, "I read about a book online that supposed to be really good! It's called The Diary of Anne Frank! Can I get it?!" We were so proud!!! When we arrived at the bookstore, he also got very excited about a book about the Periodic Table of Elements. We told him it was too expensive ($40) but we then snuck it up to the register because his birthday is this weekend. Heh... He also chose two novels.
Mason, who just turned six and who is reading at a third grade level, chose a 116-page chapter book from the Magic Puppy series. He also chose a history book about the Titanic and an educational book about weather phenomena. He really enjoys checking the weather online several times a day so maybe we have a budding meteorologist. ;)

This week's Masonism:
"Do you know what they call a boy hurricane? A himicane."
Big hugs to all,
Angela
P.S. I want to "follow" you!
ANGELA ON TWITTER
@AngelaHoy

ADVERTISEMENT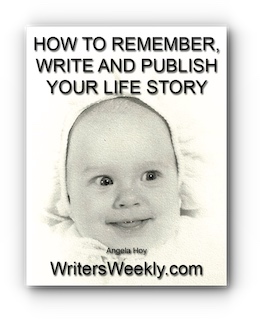 HOW TO REMEMBER, WRITE AND PUBLISH YOUR LIFE STORY! by Angela Hoy
Using Angela's MEMORY TRIGGERS, recall memories that have been dormant for years, and record those memories in chronological order in your memory notebook. Using the memory notebook as your outline, write your autobiography! **Also works for biographies and memoirs.**