September 19, 2012
Our Money Pit | printable version

I've written before about all the problems we've encountered in our "new" house in Florida. Well, the fun continues! Last weekend, we noticed there was some water on the floor in the garage. After some digging around, Richard discovered that the previous owner, who fancied himself an amateur everything, had moved the washer and dryer to the garage at some point by himself. What is now Frank's room had previously been a large laundry room. The owner ran the plumbing for it himself and used just hoses, which went into the wall through a hole. Richard had to pull part of the wall out to get to the actual faucets. Thankfully, one of our neighbors is a plumber and we were able to hire him to come over and help.
Yesterday (Tuesday), we had our electrician out for more work because, when the landscaper dug up the stone yard, he discovered wires going here, there, and everywhere. The electrician discovered that the previous owner had used a plastic coffee container to cover some loose underground wires. Big sigh...
Last week, we discovered we have termites. We also learned that the previous owners lied to us about the house never having termites because the exterminator showed us proof the house has been treated before. We had the house immediately treated. Thank goodness we didn't have to "tent" the house. Ug!
While it's still nice and toasty outside down here in Florida, the boys were thrilled that the Spirit Halloween store opened and we've already been by. Can't wait to start decorating the yard in a couple of weeks! :)

This week's Masonism:
"Toy guns are better than real guns any day."
Big hugs to all,
Angela
P.S. I want to "follow" you!
ANGELA ON TWITTER
@AngelaHoy

ADVERTISEMENT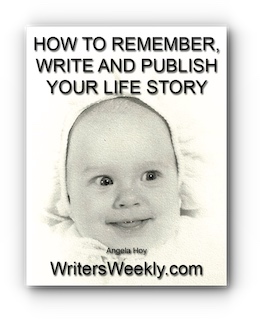 HOW TO REMEMBER, WRITE AND PUBLISH YOUR LIFE STORY! by Angela Hoy
Using Angela's MEMORY TRIGGERS, recall memories that have been dormant for years, and record those memories in chronological order in your memory notebook. Using the memory notebook as your outline, write your autobiography! **Also works for biographies and memoirs.**








COMPARE P.O.D. PUBLISHERS

BookLocker - $675
Trafford - $1,424
CreateSpace - $1,486
Lulu - $1,536
iUniverse - $1,599
AuthorHouse - $1,993
Xlibris - $2,621
Includes print and ebook publication. Prices above are based on the least expensive publishing services package offered by each publisher on similar offers targeting U.S. authors.
Details here:
http://j.mp/1bxgztC
Get articles on writing, freelance job listings
and markets for writers every Wednesday by email!
Follow Angela Hoy on Facebook and Twitter