October 17, 2012
LOOKING FOR FALL!!! | printable version

Today, we're heading to Tennessee. We'll be spending a week in the mountains with some members of my family and we are SO excited. The one thing I miss the most about Maine (aside from our good friends there) is the Fall foliage.
We took the same trip last year, albeit without the extra family members, and we had a wonderful time! I'm looking forward to some down-time, sitting on the big porch, looking at the quiet woods, and listening to nothing but singing birds and laughing children. The boys are VERY excited about playing with their cousin Marek (age 4)!
I WILL be online but my working hours may be a bit sporadic. My mom gets pretty upset when I spend too much time on my computer. ;)
This week's Masonism:
Last weekend, we took the boys to see the Myth Busters live show in Tampa. We were in the nosebleed section of the arena and, when we sat down, Mason looked around in wonder and said, "Wow! We're almost in space!"
Big hugs to all,
Angela
P.S. I want to "follow" you!
ANGELA ON TWITTER
@AngelaHoy

ADVERTISEMENT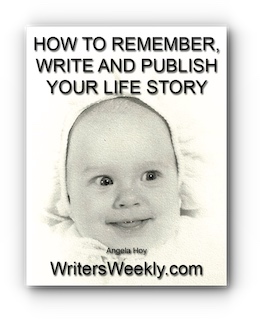 HOW TO REMEMBER, WRITE AND PUBLISH YOUR LIFE STORY! by Angela Hoy
Using Angela's MEMORY TRIGGERS, recall memories that have been dormant for years, and record those memories in chronological order in your memory notebook. Using the memory notebook as your outline, write your autobiography! **Also works for biographies and memoirs.**