Get articles on writing, freelance job listings
and markets for writers every Wednesday by email!
Follow Angela Hoy on Facebook and Twitter
February 20, 2013
We Love Comedy Shows!!! | printable version

Richard and I spent the weekend in St. Petersburg and we had a blast! We were invited by comedian Bobby Kelton to Rhonda Shear's Comedy PJ Party, where he was a performer. He is also the author of PLEASE DON'T LET THIS BE HER! A Comedian's Search for Love on the Internet. Of course, BookLocker is the publisher. It's available for order in print everywhere and as an ebook on BookLocker.com, Amazon, BarnesandNoble.com and Apple's iBookstore.
We first had lunch with Bobby and his girlfriend, Adrienne. They also live in Florida and they are sooooo friendly - and FUNNY! Bobby was on the The Tonight Show 21 times and he also had funny tales about some of his friends, including Larry David, Sam Kinison and many others. We roared throughout the entire lunch! Adrienne and I really clicked as well and we're thrilled to have new friends in Florida!
After that, they had to go get ready for the show so Richard and I walked back to our hotel. After changing into some fancy duds, we walked across the street to the theater and it was PACKED! The parking lot was full and the atrium area inside was shoulder-to-shoulder people. Lots of folks were dressed in their pajamas so that was entertaining. Some of Rhonda Shear's models were walking through the crowd in her designs. There were tables lined up with items for sale - everything from lingerie to gourmet cupcakes to, well, ahem, adult items.
We were honored that Bobby had put us on the V.I.P. list. The V.I.P. room was full of celebrities and other Hollywood people. We met some interesting people, including actors and producers. The comedy show itself was hilarious. We laughed for an hour and a half straight. There were four female comediennes and Bobby. He easily held his own surrounded by all that Estrogen! ;)
We had such a great time that Bobby promised to invite us to more of his shows in Florida. He has gigs all over and we can't wait!
This week's Masonism:
We were at a restaurant and Mason had to go to the bathroom. He looked down and asked, ""Why is the toilet water blue?"
I explained, "They use chemicals to keep the toilet clean."
He replied, "Well, I'm about to make it yellow!"
Angela
P.S. I want to "follow" you!
ANGELA ON TWITTER
@AngelaHoy

ADVERTISEMENT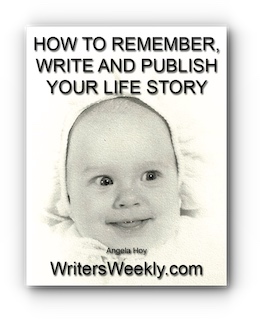 HOW TO REMEMBER, WRITE AND PUBLISH YOUR LIFE STORY! by Angela Hoy
Using Angela's MEMORY TRIGGERS, recall memories that have been dormant for years, and record those memories in chronological order in your memory notebook. Using the memory notebook as your outline, write your autobiography! **Also works for biographies and memoirs.**








Get articles on writing, freelance job listings
and markets for writers every Wednesday by email!
Follow Angela Hoy on Facebook and Twitter