August 14, 2013
Frank's Turning 21!! | printable version

Frank turns 21 this week and all his friends had great plans to take him bar hopping. However, Frank does not drink at all. He has bad memories of my first marriage (his biological father drank too much) and Frank has always been adamantly against alcohol. I was concerned someone would try to slip him something so we warned him about that. I'm not sure why other 20-somethings feel the need to try to break Frank's resolve, especially since he has openly shared his reasoning with his friends and co-workers. Thankfully, the plans seem to have fallen apart and Frank is now planning a quiet evening with his girlfriend and close friends who respect his lifestyle decisions.
When I launched WritersWeekly so long ago, Frank was only five years old. Where have the years gone?! :)
This week's Masonism:
The other morning, Mason wanted to go outside immediately after he woke up because Caleb was by the pool. Still in his jammies, he opened the back door, took a step out, turned around, came right back in, and shut the door, saying, "It's too sunny for my eyes out there!"
Big hugs to all,
Angela
P.S. I want to "follow" you!
ANGELA ON TWITTER
@AngelaHoy

ADVERTISEMENT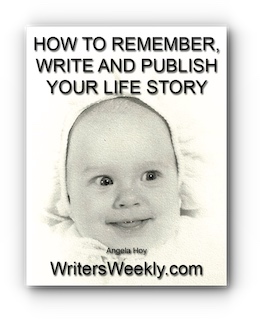 WRITE YOUR MEMOIRS IN 2013! WE'LL SHOW YOU HOW!HOW TO REMEMBER, WRITE AND PUBLISH YOUR LIFE STORY! by Angela Hoy
Using Angela's MEMORY TRIGGERS, recall memories that have been dormant for years, and record those memories in chronological order in your memory notebook. Using the memory notebook as your outline, write your autobiography! **Also works for biographies and memoirs.**
Get articles on writing, freelance job listings
and markets for writers every Wednesday by email!
Follow Angela Hoy on Facebook and Twitter